Bacon & Egg Cheese Puffs the perfect breakfast treat. This pastry recipe is very easy to make and are simply delicious. Our Chives cheddar paired wonderfully with the pastry and eggs adding a beautiful sharp taste.
Ingredients
Pre-Rolled Pastry (6 Squares)
2 Eggs
Milk
Spring Onion
Cahill's Chives Cheddar
Salt & Pepper
2 knobs of butter
Bacon Rashers
Ballymaloe Relish
Egg Wash
Method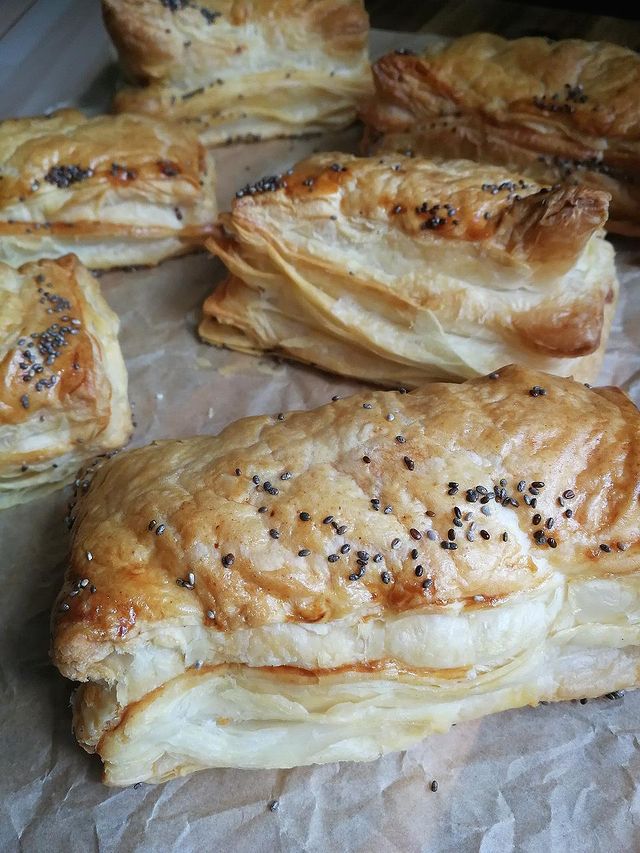 Place your pre-rolled shop bought pastry on your baking tray and divide into six even squares.
Whisk 2 eggs in a large mixing bowl.
Add a splash of milk to the eggs
Chop up your spring onion finely and add to the mix.
Grate Cahill's Chives Cheddar to the mixture.
Season with salt & pepper.
Add 2 knobs of butter to make the scramble egg runny.
Cook the scramble eggs mixture in a pan on low heat.
While the eggs are cooking fry a few slices of bacon (rashers).
Allow to cool and cut into small pieces.
Add the bacon bits to the finished scramble egg.
Add Ballymaloe Relish to line the middle of the pastry.
Add the scramble egg mixture to the pre-rolled pastry.
Assemble, fold, seal and brush with egg wash.
Bake at 180 C for 35 minutes or until golden brown.
Allow to cool.
Serve & Enjoy!