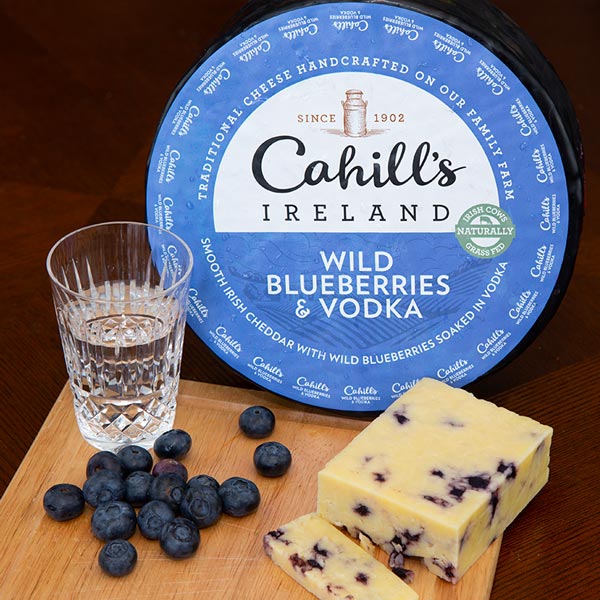 Our Vodka and Blueberry cheddar is original and unique. There isn't many cheese's out there as adventurous as this cheese. 
The freshness of blueberries pairs incredibly well with the punch of vodka. It makes for a marvellous combination of creaminess and fruity flavour. 
This sweet white cheddar is a wonderful dessert offering on a cheeseboard or cheesecake. The cheese could also be used as a unique addition to a summer salad. 
Perfect inclusion to any salad to add a fruity flavour.
 Suited to a summer cheeseboard. Adds beautiful fruity flavour.
 Perfect with a glass of red wine. Preferably a glass of Carbernet Sauvignon. 
Wine Pairing: Merlot, Carbernet Sauvignon.
Energy kJ/kcal

Protein (g)

Carbohydrate (g)

Of which sugars (g)

Fat (g)

Of which saturates (g)

Poly-unsaturated (g)

Mono-unsaturated (g)

Fibre(g)

Sodium (g)

Salt (g)

Calcium (mg)

Cholesterol (mg)

Iron (mg)

Potassium (mg)

Vitamin A (µg)

Vitamin C (mg)

Vitamin D (µg)
 1594/384

23.5

7.5

1.6

29.1

17.98

0.84

8.99

1.0

0.61

1.53

769

73

0.108

84

425

<0.1

<0.3
446.32/107.52

6.58

2.1

0.45

8.15

5.03

0.24

0.52

0.28

0.17

0.43

215

20.4

0.03

23.5

119

<0.03

<0.08