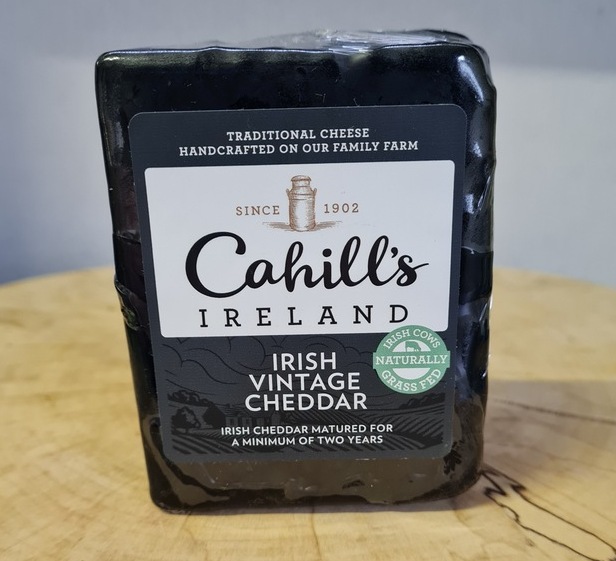 Our classic Vintage Cheddar has been aged for 24 months for delicous mature taste. Slightly crumbly but full of flavour.
The cheese has quite a crumbly texture and has a beutiful creaminess taste. It has the perfect balance of strong, savoury flavours without being too overpowering.
The hard texture of the vintage cheddar makes it excellent for grating on a pizza, over pasta or on your sandwich. 
Delicious melted on a beef burger.
Perfect for melting on any pizza.
Perfect for grating given its hard struture.
Beer:  (Light Beer) Corona, Sol
Wine  Pinot Gringo
Energy kJ/kcal

Protein (g)

Carbohydrate (g)

Of which sugars (g)

Fat (g)

Of which saturates (g)

Poly-unsaturated (g)

Mono-unsaturated (g)

Fibre(g)

Sodium (g)

Salt (g)

Calcium (mg)

Cholesterol (mg)

Iron (mg)

Potassium (mg)

Vitamin A (µg)

Vitamin C (mg)

Vitamin D (µg)
1636/ 394

24.6

4.8

<0.2

30.7

19.44

1.01

8.9

0.59

1.48

769

73

0.108

84

425

<0.1

<0.3
458.08/110.32

6.88

1.344

<0.056

8.596

5.44

0.28

2.49

0

0.165

0.41

215

20.4

0.03

23.5

119

<0.03

<0.08
200g Wax Truckle
145g Vacuum Pre-Pack
200g Pre-Pack Block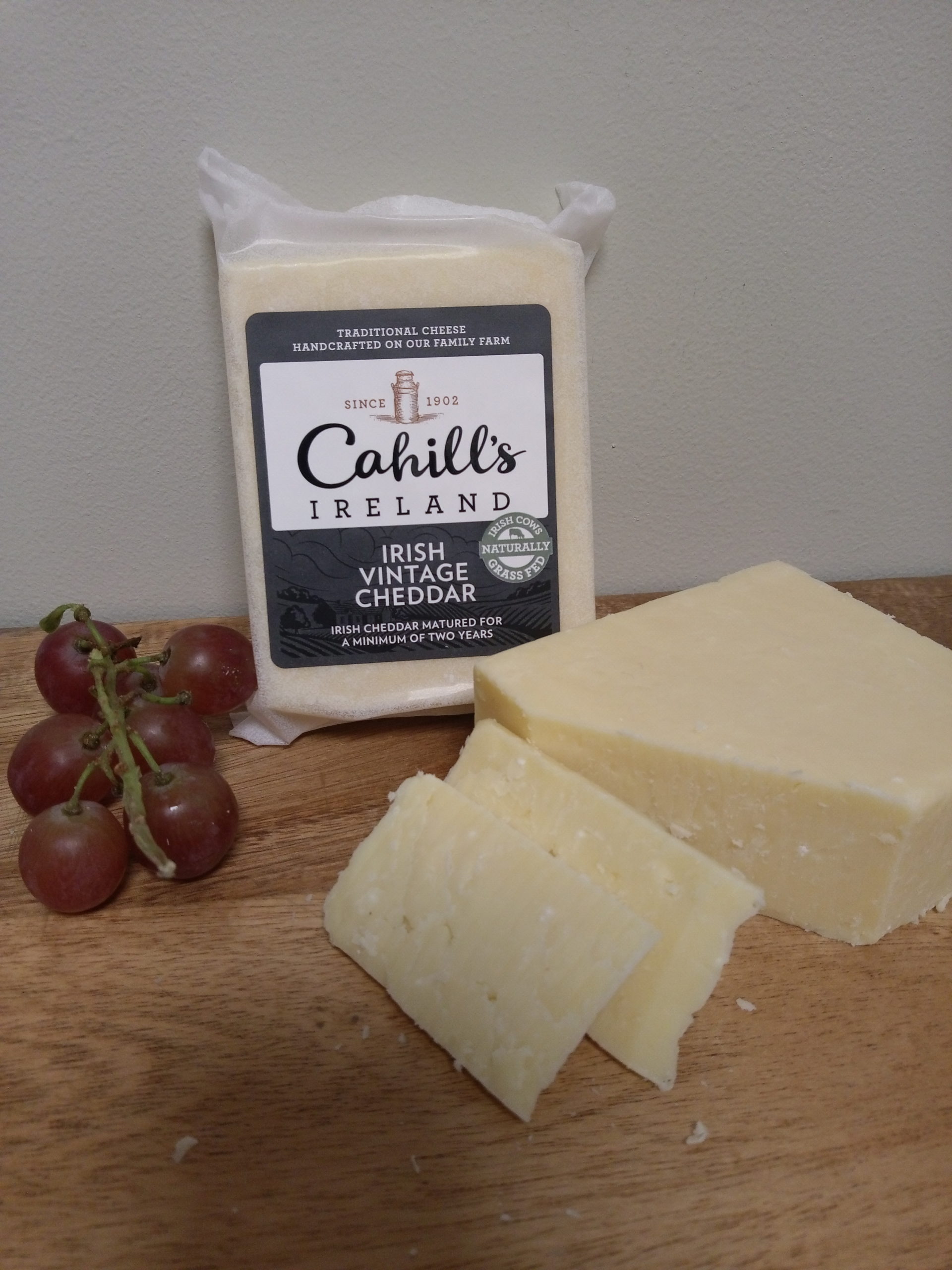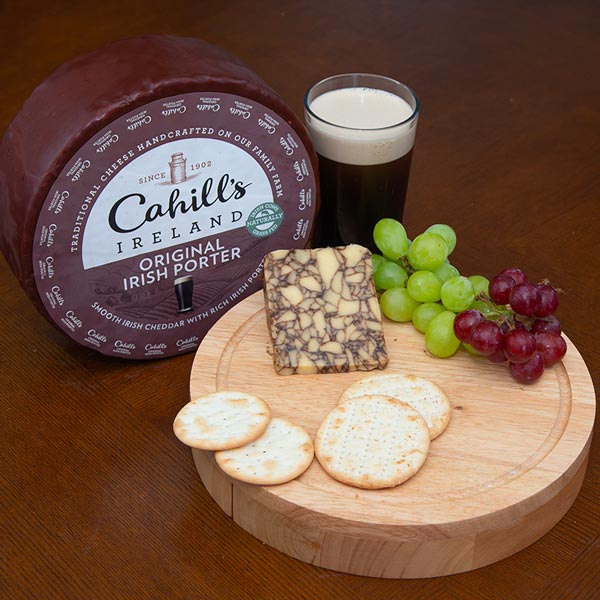 Originating on the family farm in 1985 this cheese is matured for 10 months and infused with rich, Irish porter to create a caramel, smokey undertone. The marbled effect means it looks as good as it tastes and is perfect with a Chardonnay, Pinot Grigio or Claret, Sancerre.
lrish Cream
Liqueur Cheddar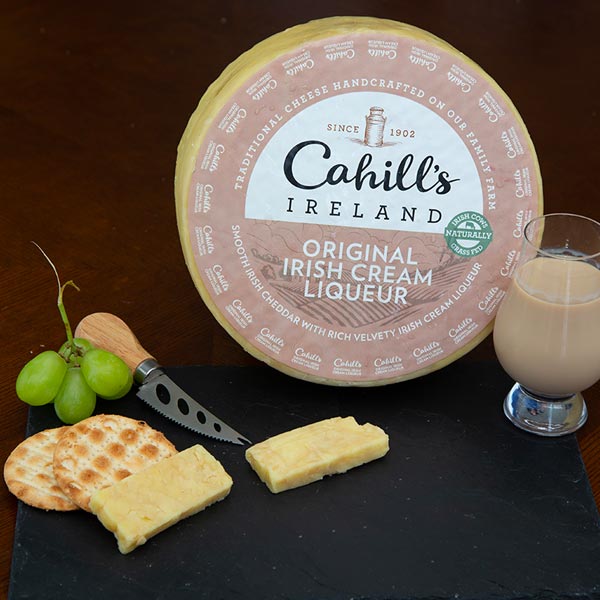 A white cheddar with a beautiful Irish crème liqueur. Best served after dinner as a desert cheese this sweet cheddar is another original from the Cahill family. Best when paired with a Sauvignon Blanc.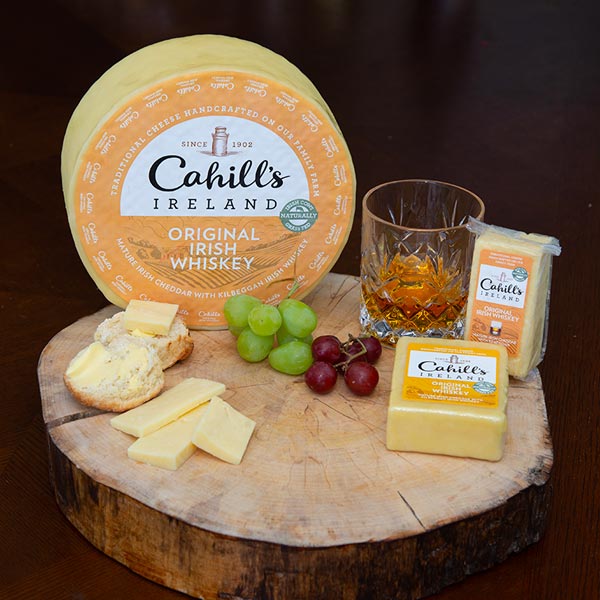 A soft, creamy and quintessentially Irish cheddar made using Kilbeggan Whiskey and matured for 10 months with a deep aroma of whiskey, butterscotch and pecan. Great with a Merlot or Cabernet Sauvignon.
Cheddar with
Garlic & Fine Herbs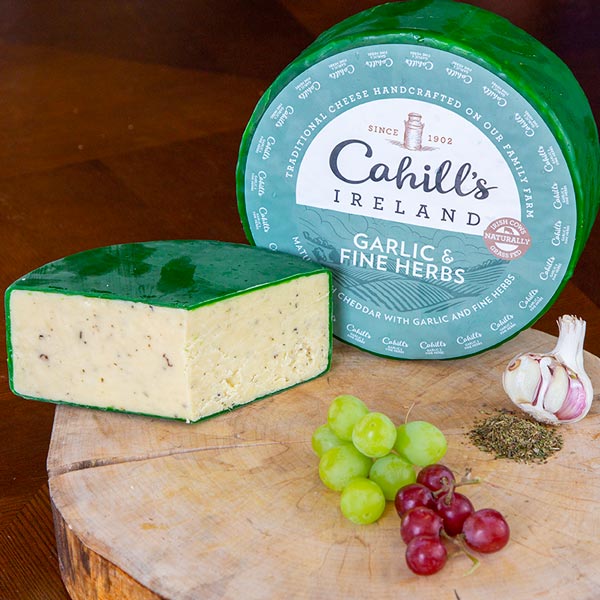 This rich, tangy cheese has an exceptional flavour. Crumbly and savoury with a buttery sweetness it's ideal for cooking, a cheese sauce or a cheeseboard. Great with Sauvignon Blanc or Pinot Grigio.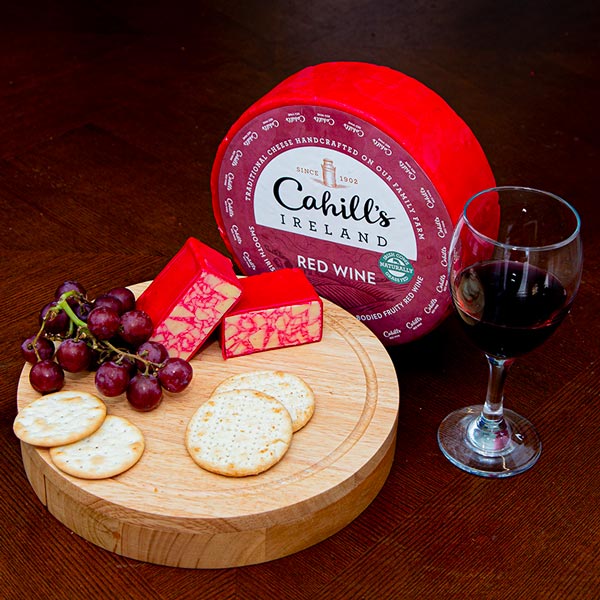 This striking cheddar with its marbling courtesy of elderberry wine makes for a sweet, fruity dessert cheese or is great in a salad. Perfect for St. Valentine's day menus it's a wonderful addition to any cheese board and best when paired with Sauternes, Beaujolais or Sauvignon Blanc.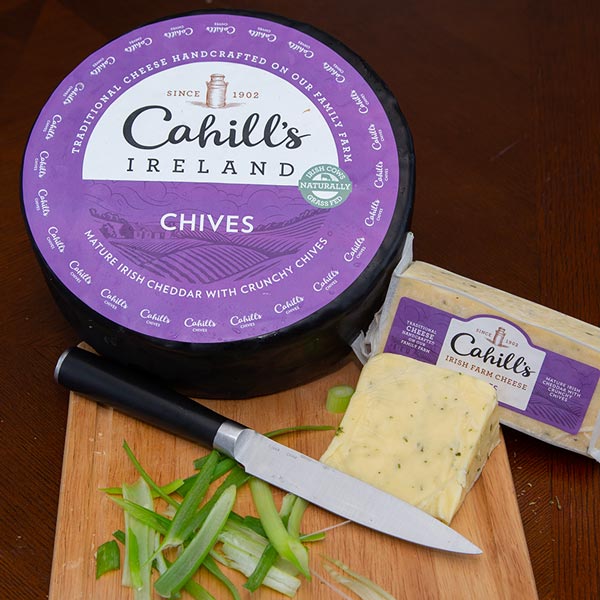 A mellow, creamy cheddar with a plentiful supply of chives and the perfect accompaniment to a full bodied wine such as Shiraz, Cabernet or even a vintage Port.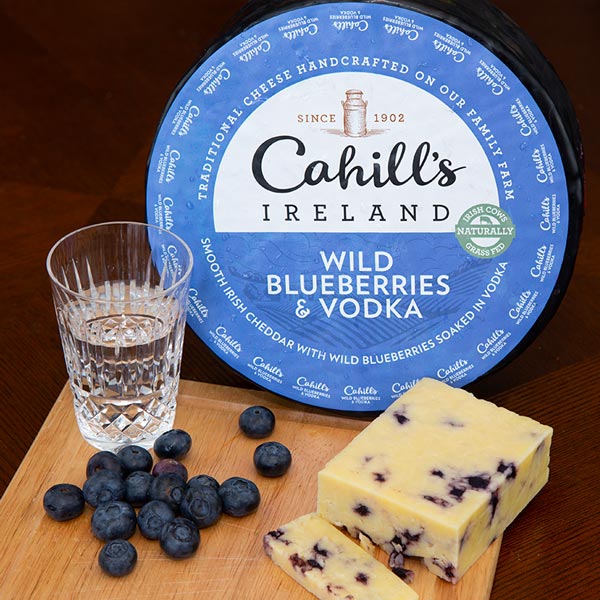 Original and unique this sweet cheese made with wild blueberries soaked in vodka is a wonderful desert offering or addition to a summer salad. Best when paired with a Merlot or Cabernet Sauvignon.
Chilli & Cracked
Black Peppercorn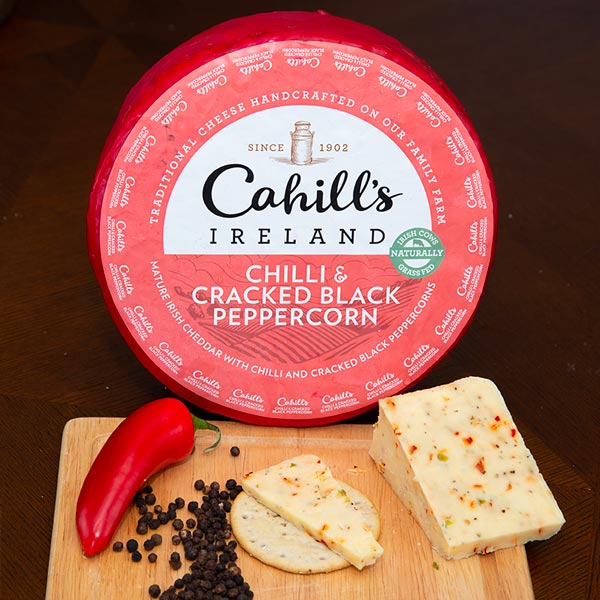 This spicy cheddar is a wonderful addition to any sandwich. Visually appealing this cheese is at home on any cheeseboard and is perfect when paired with a Pinot Grigio.