Cahill's Irish cheddar isn't just for consuming on cheese boards or in sandwiches. There is so much more you can do with cheese in general. This week we decided to pair our Red Wine cheddar with chicken breast and Parma ham served with roasted vegetables. This meal is extremely easy to prepare and cook. If you are tired of cooking the same old traditional meals we recommend trying this dish!. We would like to thank Kate O' Driscoll for sharing her recipe with us and if anyone wants to see more please visit her Instagram page provided in the link above.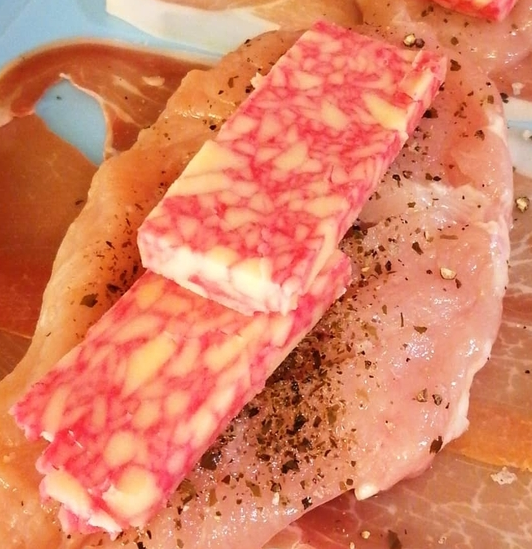 Ingredients:
One Red Onion (Quartered)
One Red Pepper (Cut into strips)
1 Courgette (Cut into chunks)
1 Clove of Garlic (Finely chopped)
Baby Potatoes (Cut into cubes)
Two free range chicken breasts
4 slices of Parma ham
4 thick slices of Cahill's Red Wine Cheese
Sea Salt
Black Pepper
Method:
Chop all vegetables to required format above.
Pre-heat oven to 180 degrees.
Place all chopped vegetables into a roasting tray and add 1 tablespoon of rapeseed oil.
Roast in pre-heated oven for 20 minutes.
Lay two pieces of Parma ham on a chopping board side by side so they overlap.
Lay the chicken fillet on top of the Parma ham.
Make a slit down the middle of the chicken breast.
Season the inside of the chicken breast with sea salt and pepper.
Top the chicken with two thick pieces of Cahill's Red Wine cheddar as seen in the image above.
Carefully wrap the Parma ham around the chicken fillet to encase the cheese like a parcel.
Take the vegetables out after 20 minutes and shake the roasting tray.
Add the chicken breast and ham with the vegetables and put back in for 35 minutes or until fully cooked through.
Serve and Enjoy!